Contributing Diva:
By Josie Villa-Singleton a.k.a Travelista
Mama Shelter's unique name corresponds to its equally new concept.  Normally staying in a boutique hotel designed by  Phillipe Starck does not come cheaply, especially in a major city.  Mama Shelter changes all that.  The rates at Mama Shelter start at 79 Euros.  Anyone who's stayed in a fine but functional Parisian budget hotel knows this rate can't be beat.
The first photo shows a typical Paris budget hotel room at a cost of around 100 Euros, the second shows the rooms at Mama Shelter.
Mama Shelter showcases Phillipe Starck's whimsical eye with graffiti grazing the ceilings and a unique mix of materials that include concrete, glass, and wood.  The eating areas combine old-school or shall I say Old World long wooden tables and benches.  The tech addicted can dine and surf at tables equipped with built in computer screens.  I-Macs, free Wi-Fi, Kiehl's toiletries and five star bedding await you in your room.  All I can say is "bonjour, baby" and bye-bye to stiff, scratchy sheets.  You'll find live indie rock and electronica music across the street at La Fleche D'or.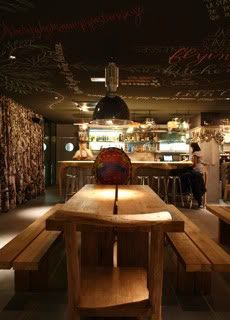 So here's the deal.  Mama Shelter is in the 20th arrondissement, which in more ways than one lays on the fringes of Paris.  The only touristy thing to do near the hotel, is to visit the nearby Pere Lachaise cemetary.  So expect a metro or bus ride to get to the tourist areas of Paris.  According to the Mama Shelter website the St. Blaise quartier is part of the authentic Paris with cafes, gardens, and an air of rebellion.  Other media indicates this area as "the toughest and least fashionable areas of Paris".  This burgeoning area is similar to any area entering "hipification",  think Williamsburg 12 years ago.
Artists as well as new immigrants populate the area drawn by cheap rent and large vacant studio spaces.  This raw, bohemian vibe may not be for everyone.  If you're interested in getting to know a different part of Paris or perhaps seek some inspirato from fellow creative types then Mama Shelter should top your list.  The nearby Belleville neighborhood deserves a visit as well.
Mama Shelter resulted from the vision of the Trigano family who just so happen to be the founders of  a little business called Club Med.  The Trigano family credit philosopher Cyril Aoizerate as helping to create Mama Shelter.  I'm intrigued by any business that has a philosopher on board.  These visionaries took what was once a multi-story carpark and transformed it into what's destined to become The trendy hotel of Paris.
A desire to look beyond tourist attractions and explore other areas of a city separates tourists from travelers.  Staying outside of tourist areas give a true peek into the heart of a city.  Mama Shelter promises a stimulating environment within and outside of its confines that beg to be explored.
For more photos check out their flickr page.
Content borrowed from Travelista.com