Contributing Diva: Mark DeCarlo
By Mark DeCarlo
The holidays are a great time to travel to Italy. The crowds are small, the prices are low, but so are the temperatures.
If you're not looking for a sun-splashed beach week on the Amalfi Coast, this may be the perfect time to finally take your romantic trip to Italia.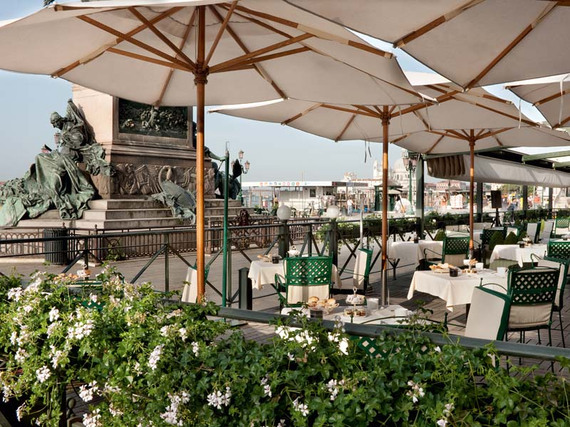 Londra Palace Outdoor Trattoria in mid-summer swing
Regardless of when you go, no trip to the cradle of modern civilization would be complete without visiting Venice, the most incomprehensively amazing city on the planet.
Actually, it's not a city. Venezia is 118 small islands linked by bridges and traversed by gondolas. It's also a great place to walk — virtually every rambling alley leads to a crooked corner that reveals a new treasure: food, drinks, art, architecture, vistas — romantic does not begin to describe this improbable world apart.
The Republic of Venice has been on the map since the Middle Ages, by virtue of its location, and has stayed relevant because… it's freakin' VENICE! No other city in Europe, or elsewhere, features its same amalgam of water, stone, wine and cuisine. For holiday or honeymoon, the romance and sublime feel of this city is beyond description. We researched and studied everything we could before our trip, yet when we woke that first morning we were speechless at its beauty. 'Course it doesn't hurt to be in the perfect hotel.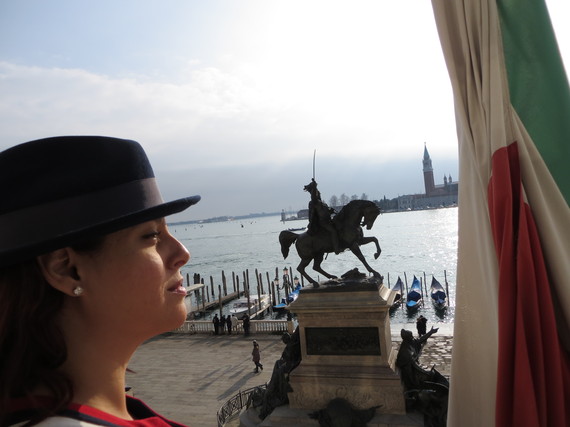 Located just a few hundred meters from
Piazza San Marco
, the
Londra Palace
manages to be both regal and comfortable. Situated with an unequaled view of the iconic San Giorgio Maggiore Island, without seemingly breaking a sweat, the Londra Palace is what every Venezia hotel wants to be — classic.
The rooms are spacious, and appointed with Italian style. The view from our room was ridiculous — the entire city and waterscape spread out before us every morning like a Cinemascope Fellini Film.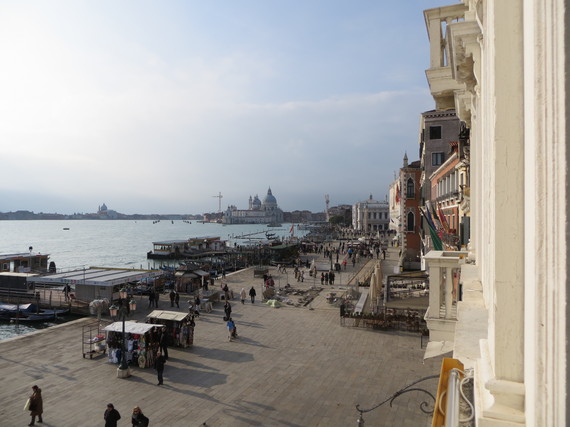 Morning views from our room @ Londra Palace
Like most hotels in Italy, breakfast is included with your room, and the Londra Palace does not disappoint. Each day, we woke to a scrumptious array of pastries, cheeses, meats, fruits and incredible cappuccinos and espressos. The service is somehow both attentive and invisible. The room would be empty except for us, but the moment my glass was empty, a smiling Italian was at my arm filling it up all over again.
We visited in January, and the nights were cold, but the days were sunny and pleasant. Evidently, in the summers when the piazzas are choked with tourists, bars and restaurants stay open late and the epic indulgence of the afternoon is spritzer drinks. Each hotel and bar has their own mixologist, churning together Italian flavors like Campari, digestiffs, Bellinis and other concoctions that bubble and dance across your tongue like a breeze ruffling the pigeons in San Marco's.
Lucky for us, at the Londra Palace, works the most famous and decorated mixologist in all of Christendom… or at least Venezia. A man who's spent over 20 years perfecting and designing light — yet potent — drinks for all pallets, with one eye on the glorious past and the other focused on fusing these flavors into the future.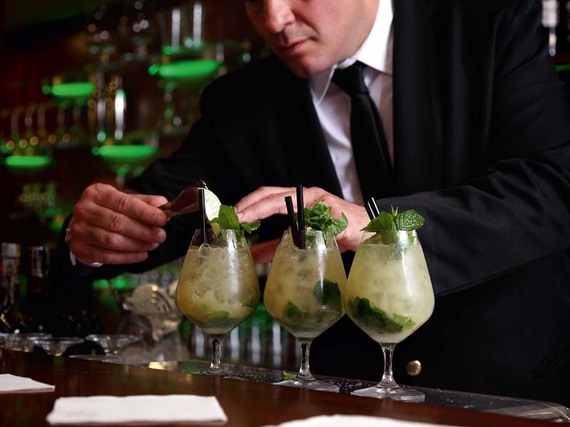 For a bartender, Marino Luchetti is a serious man. His face tells more stories than his mouth, but his hands never stop moving. He is the head bartender at the Londra Palace and unlike many bartenders in my Los Angeles, treats his occupation like the profession it is. In the week we sat drinking with and by him, not once did Marino mention a screenplay he was writing or offer to give me his head shot to take back to Hollywood.
But what he did provide was an unending series of delicious, inventive and savory drinks that really made us feel… Italian.
Thankfully, everything in Italy is very Italian. As Americans, we felt every moment that we were "someplace else" and loved it. The lyrical sound of the language, the colors of the open air food markets and delis, the smells of the trattorias all combine to transport the mind, body and soul into a classic realm that is at once far from home yet absolutely home.
Then at the end of each day, we'd return to the Londra Palace, our feet aching from walking canals and bridges from museum — The Dali Universe, Doge's Palace, Galleria dell' Accademia — to museum, to find Marino holding court behind the bar.
On our final night in this unfathomable city, Marino had prepared a special treat for my Cuban bride — a Passion Fruit Mojito! Mojito?? In Venezia?
Si.
Go to our HuffPost page for more stories and video from our Italian Honeymoon, AVANTI!
Mark DeCarlo   3 time Emmy Award winning Comedian, travel & foodie expert
Follow Mark DeCarlo on Twitter: www.twitter.com/MarkDeCarlo